Pilates for you, when you want it, where you want it
What is `Interactive Live Pilates´?
Rather than throw a load of techno babble at you we will keep this simple. Most of you would have been to a gym, fitness centre, spa etc for Pilates and joined in a class with others. So, my interactive version is exactly the same just through your laptop, phone or ipad, you learn the same, you do the same; in fact you can even join in with the same people who attended your previous classes. 
For those that have busy lives, careers, looking after children or relatives or even just want to learn from the privacy of your home my class should be perfect, in fact you can join in anywhere........maybe the beach or garden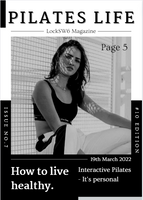 Profile - Jane Harrison
Jane is a highly experienced Pilates and fitness instructor with over 20 years experience. Having taught throughout Surrey for clients including Foxhills Country Club, The Riverbourne Club, Thames Club, Runnymead Spa, Achieve Lifestyle and Proctor and Gamble she has now set up her own online studio encompassing a fully interactive platform through Zoom. Firmly believing that fitness is a inclusive activity she is using her experience to help both existing and new client achieve fitness goals. 
All payments are secured through Shopify and Amazon Pay which means your money and data are safe.